This post is also available in: Deutsch (German)
On the road to recovery from this pandemic, business and industry leaders in Europe have seized the opportunity to start afresh and rebuild an economy revolving around sustainability and inclusion. Many of them have called for the European Green Deal to be used as a framework for tackling current challenges with long-term goals. Since we're no stranger to this topic of sustainability in the context of Big Data, we look at what the European Green Deal is, how it helps Germany's aid scheme and how Big Data plays a part.
What is the European Green Deal?
"The Commission's goal is for Europe to be the first climate-neutral continent by 2050. In order to achieve that goal, action has to be immediate.

The European Green Deal will improve people's health and lives, protect our nature and wildlife, and ensure a healthy planet for generations to come.

It sets out a new growth strategy by tackling some of the most important environmental and climate-related problems."

The European Commission's Green Deal goals.
Drafted in late 2019, the European Green Deal is the European Commission's action plan to "transform the EU into a fair and prosperous society, with a modern, resource-efficient and competitive economy where there are no net emissions of greenhouse gases in 2050 and where economic growth is decoupled from resource use."
It also aims to "protect, conserve and enhance the EU's natural capital, and protect the health and well-being of citizens from environment-related risks and impacts" in a "just and inclusive" transition.
More importantly, the Green Deal is said to be integral to the Commission's implementation of the UN's Sustainable Development Goals (SDGs). The Green Deal's elements include: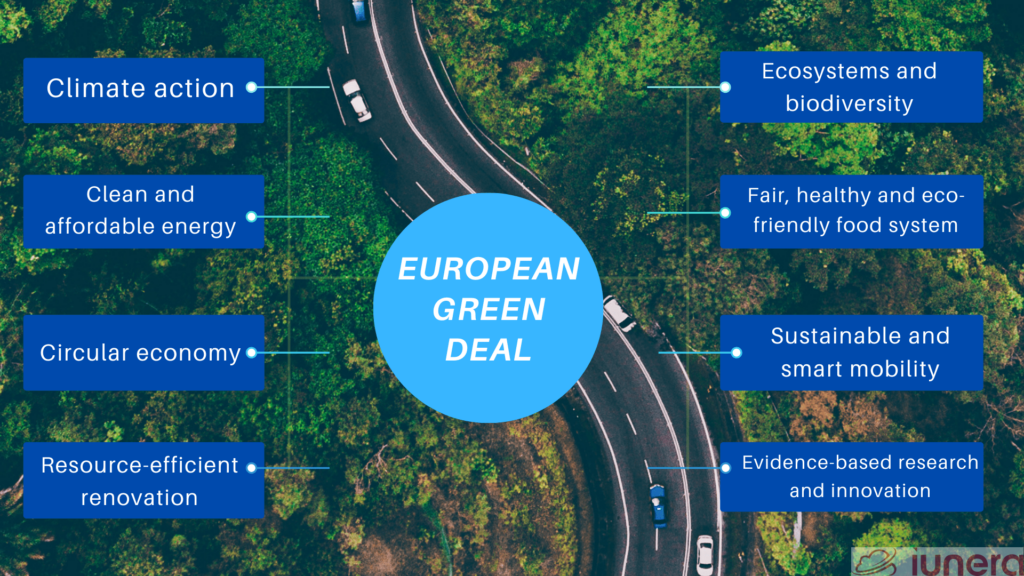 Given that Europe "has the collective ability to transform its economy and society to put it on a more sustainable path", the actions needed to achieve the goals include:
Rethinking and designing deeply transformative policies for clean energy supply and resource efficiency across several industries.
Mainstreaming sustainability and inclusion in all EU policies, national budgets/aid schemes, data-driven research and innovation initiatives, schools, universities, and workplaces.
Acting as a global leader of climate action in international engagements.
You can find out more about the policies, investments and measures in the Q&A or the Communication document.
A little closer to home, Germany has been notifying the European Commission of its plans to provide financial support for things that matter, especially since they're in line with the Green Deal.
Germany plans to help public transport, airports and more using the aid scheme
The European Commission has approved Germany's €30 billion "umbrella" scheme to support the uncovered fixed costs of companies affected by the Covid-19 lockdowns. The European Commission has also approved a €300 million German scheme to support public transport improvement projects.
"With this €300 million scheme, Germany will support innovative projects that will contribute to the transition from private motorised transport to sustainable local public transport.

The scheme will foster the reduction of carbon emissions through sustainable mobility and the rolling out [of] cleaner and cheaper forms of public transport, in line with the important objectives of the European Green Deal".

Executive Vice-President of the European Commission, Margrethe Vestager, on how the €300 million German aid scheme will help Germany's public transport projects become more sustainable and meet the Green Deal's sustainability goals.
The scheme is expected to improve the coordination and distribution of local public transport over different transport modes. Sounds like good news to public transport users in Germany! Additionally, there's also an aid scheme for the airports to recover from the airline recession sparked by Covid-19.
How does Big Data fit into the Green Deal equation?
As stated under 2.2.3. Mobilising research and fostering innovation of the Green Deal Communication document, accessible and interoperable data combined with digital infrastructure and AI solutions form the backbone of insights-driven decisions for tackling environmental challenges.
"The Commission will support work to unlock the full benefits of the digital transformation to support the ecological transition.

An immediate priority will be to boost the EU's ability to predict and manage environmental disasters.

To do this, the Commission will bring together European scientific and industrial excellence to develop a very high precision digital model of the Earth."

2.2.3. Mobilising research and fostering innovation of the Green Deal Communication document.
In the past, we've discussed several ways Big Data can be applied, particularly in sustainability. Since the Green Deal involves data-driven sustainability solutions, here's a recap of the use cases that we think are relevant ideas for the Green Deal.
Food system
Initiatives like The Climate Corporation, CGIAR and the Famine Early Warning System provide inspiration for the sustainable, efficient and waste-free production and consumption of food resources.
Extreme weather conditions can reduce crop yield, so farming becomes more costly. For instance, drier summers call for more water, fertilisers and other materials needed for cultivation, so such weather can lead to a significant increase in wheat prices.
Hence, data about agricultural conditions, weather and food economics allow farmers to make better farming decisions and to make sure there's enough to feed the world.
Another initiative to take inspiration from is the MEANS database for effective food aid, where the right food is matched with the right needy people, to prevent food wastage.
It uses a system of emails, texts and cloud-based data crunching to solve the mismatch of food between what food kitchens and charities need, and what is given to them.
Clean energy
Since some forms of renewable energy are derived from the weather, predictive analytics and machine learning can be combined with satellite and historical weather data to make weather forecasts. Weather forecasts are useful for optimising energy production in existing solar, wind and hydro energy plants. Data can also be gathered about the intelligent re-routing of excess energy in the smart grid energy system.
Of course, some nice things in life require tender, loving care. In the case of renewable energy like solar, maintenance of solar plants is a must but it can be difficult and expensive. To solve this without the need for on-site supervision, ground-level sunlight-intensity data can be used to signal when panels are underperforming and send an alert that indicates that repairs or maintenance are needed.
Water supply
Thanks to the Internet of Things (IoT), vast amounts of sensor data about water supply like water quality, treatment plant conditions and meter readings can be gathered (on top of weather forecasts). These data can then be turned into useful insights for water utilities and farmers to make better decisions for issues like:
whether the water is safe to use,
which areas of a region is the water not safe to use,
which areas of a region have water leakage or disruption,
which areas of a region lack access to sanitised water supply,
for how many households are the water reserves enough to serve,
the implications of water supply problems on communities,
and telling farmers to know precisely how much water they need to add to the crops for crop yield, cost and water usage optimisation.
Rubbish collection
Here's a little shameless promo of a past project of ours, which others can hopefully learn from. The project assessed whether Big Data can be used to track rubbish collection truck movement, predict the emptying of rubbish bins to save the sweeper's time and detect the locations of irregular waste to optimise rubbish collection work.
The truck movement impacts fuel consumption, which then impacts air quality and expenditure. So, various route options need to be evaluated to find the most productive, low-cost and efficient route to recommend.
IoT sensor data and machine learning can be used to detect whether the rubbish bins need to be emptied and forecast when the bins are likely to become full so that cleaning can be scheduled in advance.
IoT sensor data analysis can be leveraged to locate hotspots of irregular waste.
Public transport
As one aspect of a smart city, it's more important now than ever for public transport to undergo tremendous improvements to encourage more people to move away from private car use and opt for public transport, the more sustainable option. Here are three proven ways:
Manage congestion levels in trains and train stations using people flow technologies.
Radial networks using mobile phone data can also be constructed and leveraged to gauge the demand for mass transport services in cities and meet that demand through the expansion of services in terms of time and location.
Provide real-time estimates that enable commuters to make optimal travel decisions based on congestion levels, arrival times, departure times and routes.
Climate action
The steps above (as well as ending animal agriculture) are related to climate action one way or another. But how do we know if we're actually making progress? Some examples of data-driven climate action initiatives show how:
Covid-19 airline recovery
As mentioned earlier, airlines were among the industries hit badly by the Covid-19 recession. Hence, airlines can get back up using a Big Data-driven airline recovery plan in just 5 steps:
Track global pandemic progress by looking at real-time data of Covid-19 cases worldwide and determining if the data indicates recovery or deterioration globally.
Track regional and sub-regional progress by zooming into each region, sub-region and country for the same data and determining the status of that area.
Identify air route reactivation by comparing the progress of different countries and determining which routes to activate first.
Check global air travel demand to determine the next steps for marketing and sales.
Check customer-specific air travel demand to determine targeting efforts.
Conclusion
As indicated in this article, there are so many ways to use Big Data for bringing the Green Deal to fruition.
But the great thing is that Big Data applications are not limited to the ones listed above (food system, clean energy, water supply, rubbish collection and waste management, public transport, climate action and airline recovery).
The possibilities are endless for the Green Deal to be data-driven. Coming up with more ways to fulfil the European Commission's aspiration to be a sustainability leader is where innovation steps in.
Given that Big Data and machine learning have the capability to deal with the complexity of sustainability-related data, it's worth repeating from a past article that Big Data has the potential to make the world a better place and that potential needs to be used to the fullest, especially in pursuing the greater good.