Written by Natasha
You've got a great website design, the right products and competitive pricing, but you're missing out on one great Big Data feature to offer your customers personalized e-Commerce experiences with recommendations that can transform your e-commerce business' performance.
You recognize that the competition is getting harder and harder and more e-commerce shops are rolling out Big Data solutions to personalize the e-Commerce experiences in their stores. Hence, personalized e-Commerce experiences with recommendations would be a crucial asset to keep up with the competition.
In this article you will learn what personalized e-Commerce experiences with recommendations are and how they work;
What personalized e-Commerce experiences with recommendations are.
How personalized e-Commerce experiences with recommendations help your e-commerce.
How to implement personalized experiences with recommendations into your e-commerce platforms.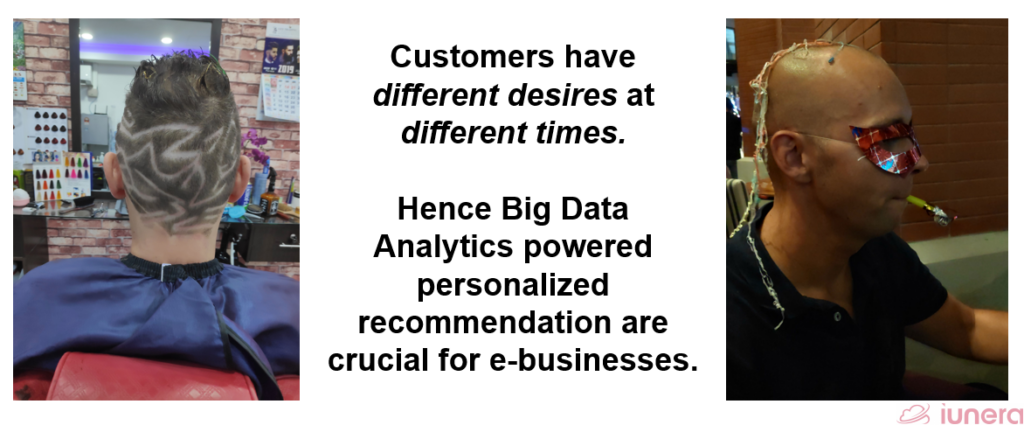 What is your e-commerce missing?
E-Commerce is arguably one of the greatest technological innovations to benefit businesses in the modern era. However, it's not without its drawbacks and it's not without room for improvement.
Unlike brick and mortar stores, e-commerce lacks the personable and important customer touch-point of salesclerks having those one-on-one interactions with the customer. The lack of this causes a number of negative implications;
With no real-time personable interaction with customers, a business misses out on the opportunity to effectively up-sell and cross-sell. There are no salesclerks on e-commerce to identify the customer's needs and make recommendations suiting their interests and intents in real-time which persuade customers to buy bigger or buy more.
E-commerce websites typically have large numbers of product listings of different item categories. This can make browsing the site overwhelming, confusing and frustrating to customers.

You lack the capability to see where and if discounts are killing your e-business. Customers who purchase only with discounts might not get offered them and the ones who buy either way might get offered discounts.
As a customer, if you are unable to find what you like or anything that interests you, then you will likely just click out. And if products that interest you are not being promoted to you, likely you buy exactly what you came for and be done.
Either way, you look at it, you end up losing a customer, a sale or additional revenue.
You invest a great deal of effort, time and money on advertising your business to lure customers on to your e-commerce site for it all to go to waste by this one roadblock. But is there a solution to this problem?
Real-Time automated product recommendations engine
The solution is a real-time automated recommendation engine. A recommendation system acts as an automated shopping assistant and allows personalized experiences. It's a way to enhance your customer's shopping experience and introduce your customers to the other product ranges available in your e-commerce store.
This is done just like you would in a real-world scenario except it's all automated. The system work to display the right range of items to make finding the right product easier as well as up-sell and cross-sell by showcasing similar and more expensive options to persuade customers to buy additional items or opt for a more expensive item.
This leads to increased revenue generation, increased sales and it makes the customer's shopping experience more enjoyable, easier and personable.

Multi-dimensional personalized e-Commerce recommendations
Random product recommendations will not cut it, of course, your recommendations need to be personalized and multi-dimensional to be effective.
Personalized e-Commerce recommendations
Flooding top-selling baby clothes recommendations to a customer who is interested in purchasing a coffee mug can be counterproductive. Although it's a recommendation, it's not what the customer is looking for or interested in.
Big Data powered e-Commerce product personalization and recommendations systems identify the customer's needs and displays recommendations and promotions based on those specific needs. That means showing coffee mug shoppers, other coffee mug products. These personalized e-Commerce recommendations are further segmented to up-sell and improve shopping experience under the below categories;
Top rated coffee mugs
Customers who viewed this item also viewed
Customers who searched for "coffee mugs" ultimately bought
Showing the customer only other coffee mug recommendations or showing coffee mugs only to coffee mug shoppers only will also not wield you the best possible outcome. It's very one-dimensional and excludes the opportunity to cross-sell and create multiple sales.
Multi-dimensional e-Commerce recommendations
The most effective way to implement personalized e-Commerce experiences here would be to recommend the customer other mug products along with other glassware, table wear, coffee maker machines, and coffee to go along with that coffee mug.
This is called multi-dimensional personalized e-Commerce experiences with recommendations. Multi-dimensional e-Commerce recommendations are broken down into the following segments to create variety;
Popular products inspired by this item
Related products
Frequently bought together
The combination of the two features would produce personalized product recommendations as showcased below;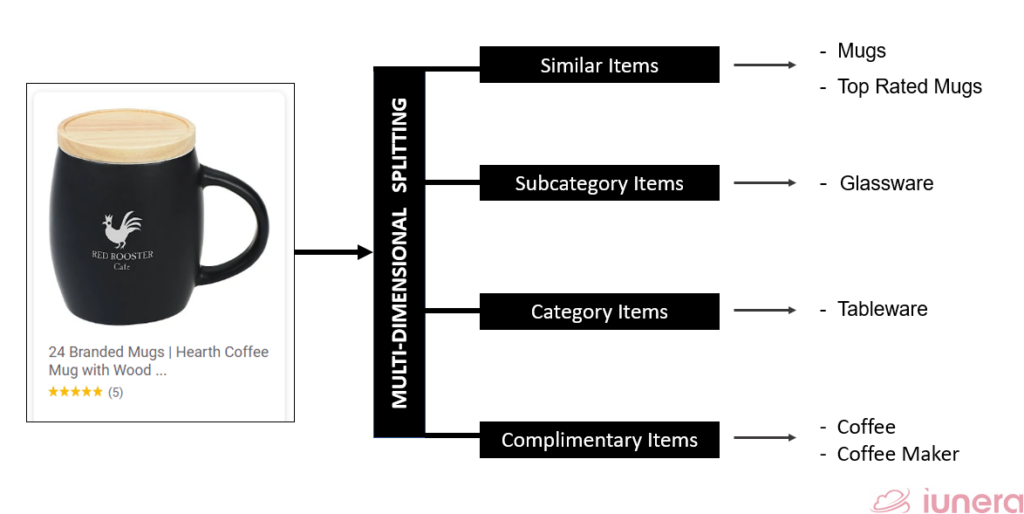 The incorporation of personalized multi-dimensional e-Commerce analysis and recommendation systems enables an effective high functioning selling system to drive higher cross-selling sales, up-selling revenue and customer satisfaction.
Where to integrate E-Commerce recommendations and experiences
Personalized recommendation and experiences can be implemented at various points of a customer's buying cycle.
Homepage recommendations: Your homepage is your first point of contact with your customer and first impressions are everything. Get your customers engaged right away and personalize the homepage by showing personalized product recommendations.
Search page recommendation: Help customers find the right product that best match their criteria among the sea of product listings.
Product page recommendations: This is a great touch-point to up-sell and cross-sell. Let customers experience personalized product recommendations that match the item they are viewing.
Checkout page recommendations experience: This touch-point acts like the product displays at checkout counters in brick and mortar stores. Boost sales with point of sales and impulse purchase by positioning a personalized product recommendation at this touch-point.
If you are solely an online-based business with no brick and mortar presence, then following a more aggressive strategy with recommendation will help keep sales conversions high, customers engaged and satisfied.
Identifying your customer's experience needs

Identifying your customer's experience needs and interests for personalization are the core and driving force of this comprehensive system. Finding out that information can be a challenging task.
How can you know what your customer wants especially if it's the first time they are shopping with you or have been visiting but not buying anything?
The answer is in their behaviors.
Your customers' behaviour includes what they search for and their looked at items. Knowing this information will allow you to know your customers interests and needs.
But how can you get your hands on this information?
Big Data Analytics powered hyper-personalized e-Commerce experiences with recommendations
Big Data Analytics is the key to unlocking personalized recommendations and experiences. The cornerstone of personalizing any step of product recommendation in your customers' journey – is Big Data collection and analytics.
Personalized product recommendation engines use Big Data analytics and Data Science methods to learn who customers are and what customers want via the use of implicit input methods. Implicit input methods include tracking every customers' on-site behaviour and past interactions.
The system collects and tracks information from site features; wish lists, reviews of existing customers and it collects information of both existing and new customers by tracking a customer's website activity; what customers view, click on and search words.
These data points are then fed through heavy math machine learning to profile a customer and produce the best possible recommendations to match each individual customer.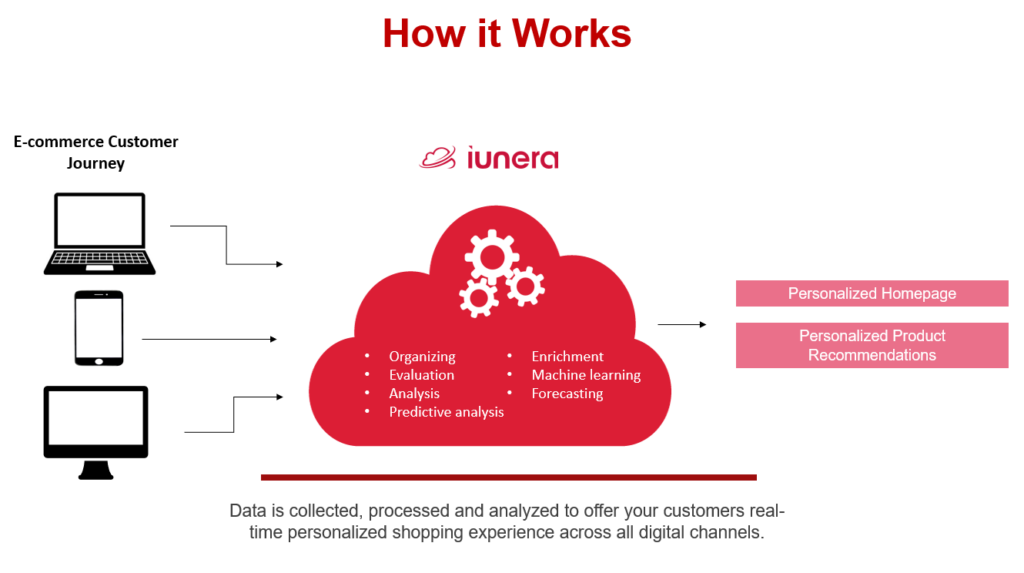 What does the research say?
Multiple surveys and studies performed solidify the importance of personalized product recommendations for e-commerce.
Food might be the way to a man's heart, but these stats prove that personalization and recommendations are the way to your e-commerce customers' hearts.
As technology progresses, e-Commerce businesses are finding newer and more innovative features to generate more revenue, more sales, better customer satisfaction and overall upgrade their platform performance to extract the best possible outcomes.
Neglecting to adapt with this ever-changing market will lead you to greatly impede the potential of your e-commerce platform and miss out on a significant amount of revenue and sales.
Are you looking for ways to get the best out of your data?
Let us help you use your data.
Related Posts