Written by Natasha
If you're looking for inspiration on ways you can incorporate data-driven personalized email marketing to grow your business, then you've come to the right place. We explore how renowned business giants utilize data-driven personalized email marketing.

The importance of enhancing email marketing
In today's digitalized world we live in; email marketing has become a core aspect of business functions. If done right, email marketing is a key marketing tool that provides businesses with a direct path to engage and re-engage individual customers.
Email postboxes are house mailboxes
Your email address functions more or less like a house address, you need an email account to perform most tasks on the internet. In 2019, global email users amounted to 3.9 billion users. The figure is set to grow to 4.3 billion users in 2023; that's half of the world's population.
Although the digital world offers a variety of methods for marketing, it is ever-evolving and changing with many platforms being outdated and companies like Google changing its rules. In retrospect, email marketing has remained a consistent and timeless tool that provides great value to businesses.
Hence, businesses must learn how to utilize this tool properly and exploit it to its fullest potential. However, most businesses end up with email marketing campaigns that don't produce sufficient results and thus overlook the opportunities this tool can provide. When you invest time, energy and funds to execute an email marketing campaign but don't receive back effective results, it can really be a downer.
Personalized email marketing achieves new heights
Personalized email marketing is the email marketing strategy that helps businesses achieve faster and better results via their email marketing efforts. Personalized email marketing is about leveraging customer data to provide value to your customers by sending out content relevant to whoever they are and what they like. If you are unfamiliar with what personalization strategy as a whole is, we go in-depth to explain the concept here.
Personalized email marketing is one of the leading trends in email marketing today and there's a good reason for that. Many e-commerce giants swear by data-driven personalized email marketing and it has proven to be a key driver in increasing sales and engagement.
Personalized emails mean getting read and getting results
The average email open rate is 20.81%. But if you personalize your emails, you'll start to see results increase marginally higher. Statistics show that emails with personalized subject lines alone generate 50% higher open rates and that personalized email marketing content delivers 6x higher transaction rates.
Customers love it too, no one wants their inbox flooded with countless irrelevant emails from a business. Customers want value and convenience; data-driven personalized email marketing offers just that to them.
If you're looking to incorporate this handy tool to grow your own business as well, then here are some data-driven personalized email marketing examples from e-commerce veterans to inspire you.
1. Netflix
Your favourite streaming site uses personalization all around in their business activities and email marketing is no exception to that.
Some of Netflix's notable personalized email marketing campaigns include its; 'We just added a TV show/Movie you might like', 'What's playing next?', 'Netflix tonight?', 'Top suggestions for [Name]'.

The personalization of these emails is based on the user's on-site activity. Netflix leverages Big Data Analytics of their customer behaviour to personalize their emails in these varying ways.
Even though these are different email templates, the underlying theme recognizable in all of them is that they all contain content suggestions that suit the individual user's taste.
Netflix uses its personalized email marketing to increase engagement by introducing new content add-ons that fit the individual user's taste and by providing a mini recommendation list of several other shows that suit the viewer's tastes.
Netflix also utilizes personalized email marketing to re-engage users who have been idle by triggering emails towards those users with personalized recommendations that match their cinematic taste to encourage re-engagement.
2. Sephora
Sephora has established itself as one of the largest beauty retailers in the United States and outside. The high-end beauty retailer has continued to incorporate personalization into its eCommerce activities throughout the years.

'Restock your stash' which prompt customers to re-order an item they've previously bought, 'Hurry! You might miss out' which jog the customer's memory on pending cart items and 'Here's a special offer just for you' which offers idle customers special discounts to encourage buying.
These are some of the basic core data-driven personalized email marketing campaigns every e-commerce store should be implementing. And depending on your industry, you can improvise by putting your own spin on it.
These data driven personalized email marketing campaigns by Sephora are built to targets customers individually based on their buying behaviour and preferences and they all lead to achieving one common goal; increase engagement and sales.
3. easyJet
easyJet has been one of the first companies to embrace personalized email marketing in the airline industry.
For their 20th anniversary, easyJet released a data driven personalized email marketing campaign which garnered massive success.
The ad campaign "How 20 Years Has Flown" was built around data on each customer's journey with easyJet throughout the years. The personalized emails contained images and links that showcased each customer's story from their very first easyJet flight to their flights to come.

The personalized and emotional ad campaign brought open rates over 100% higher than the average easyJet newsletter – with 25% higher click-through rates. Across all markets, 7.5% of easyJet customers who received the personalized email went on to make a booking in the next 30 days. In specific, the Switzerland market saw an increase of 30% in conversion rates.
4. Spotify
Spotify is stepping up its data-driven personalized email marketing game by fully incorporating personalization as a strategy.
Spotify uses email marketing to provide users with the greatest value while consequently increasing their engagement rate.

Spotify's data-driven personalized email marketing consists of a variety of personalized campaigns but some of our favourites are its yearly personalized email 'Your year Wrapped' which lets customers know what music and how many minutes of music they've listened to that specific year, 'Release Radar' which notifies users of newly released songs that match their tastes and 'Upcoming Concerts Alert' which notifies users of any concerts by their favourite artist taking place around their geo-location.
As evident, these data-driven personalized emails range from regular notifications to more special infrequent campaigns which all contribute to help keep engagement high.
Spotify is a great example of how you can get creative and playful with personalized email marketing.
5. Amazon
At last but not least, we have Amazon. How could we talk about eCommerce personalization without mentioning Amazon?
Amazon was way ahead of the game in terms of personalization by pioneering it in the e-commerce world. Amazon personalizes every step of a customer's buying cycle which includes engagement through email marketing.
According to Amazon, personalization has played a key role in its e-commerce success. If you check Amazon's website or app, you will be greeted with a variety of product recommendations based on different customer data points at almost every touchpoint on the website and App.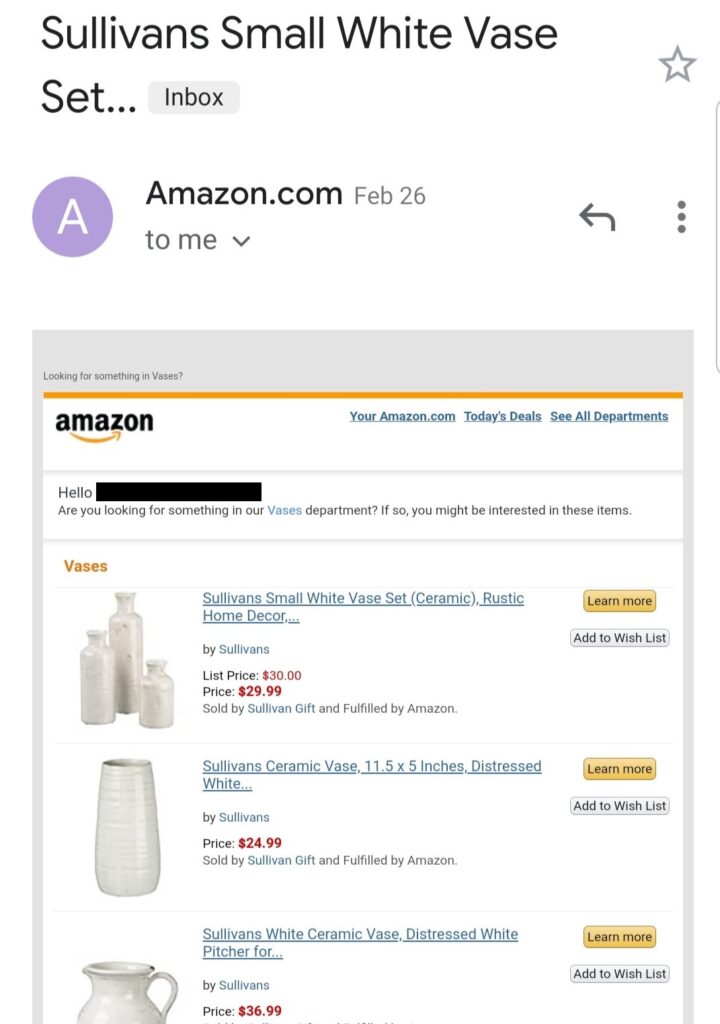 Amazon has integrated personalized product recommendation into its email marketing as well. The data-driven personalized emails by Amazon contain product recommendations for customers based on their interests and past buying behaviour. This is achieved via utilizing user search behaviour tracking and past purchase history with Big Data and machine learning to compile personalized recommendation lists which are then mailed to customers.
And unlike most other reminder emails from other businesses, Amazon's reminder emails and personalized recommendation emails are based on customer's last search history in addition to its pending cart reminder emails.
These emails work as a reminder for customers to pick up where they may have left off and provide more options that customers may be interested in purchasing.
Conclusion
In the future, data-driven personalized email marketing will be the norm. It is the way forward. Customers will expect nothing less than to be offered content relevant to them and will dismiss anything else.
You can start by implementing the basic data-driven personalized emails. Once you've established that, then it's time to get funky with it. Get creative with your personalized email marketing and appeal to customers emotionally.
Make sure you invest in the foundation of good personalized email marketing, which is a Big data Analytics system. You need this to learn your customer's preferences and behaviours that enable personalization.
As demonstrated above, data-driven personalized email marketing can be executed in a number of ways. The possibilities are plenty and the rewards are well worth it.
We hope this has helped inspire you to explore your options with utilizing personalized email marketing to grow your business.
Are you looking for ways to get the best out of your data?
Let us help you use your data.
Related Posts