Written by Natasha
The global health pandemic has now become a global economic pandemic. How will the COVID-19 Coronavirus economic recession affect global air-ticket sales and airline flight demand?
Trouble is brewing in the economy. The global economy has taken a devastating hit because of the Coronavirus outbreak worldwide.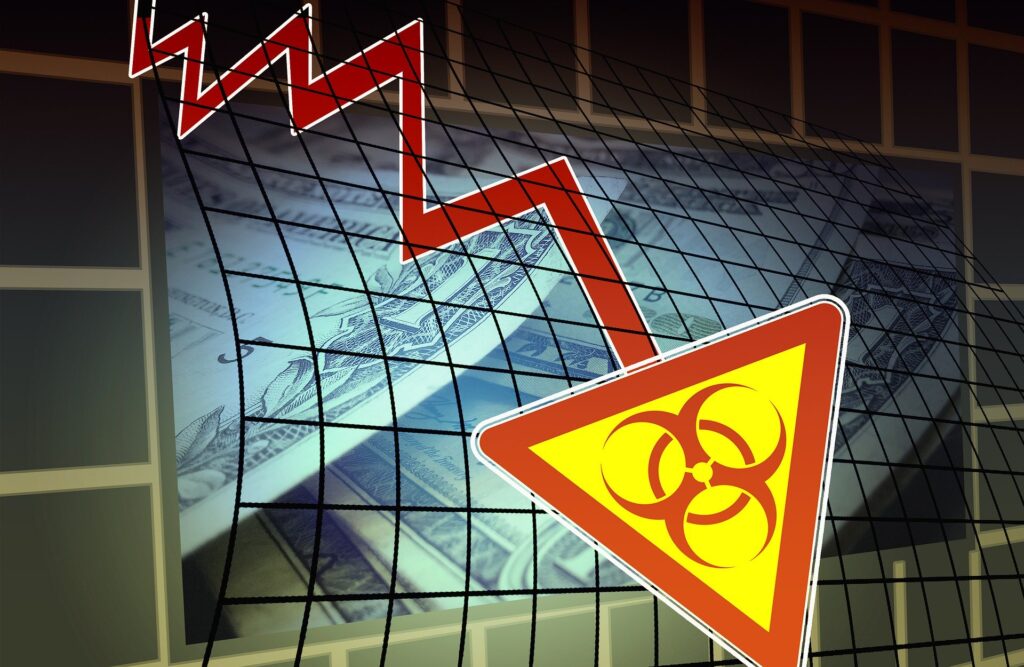 The airline industry being one of the hardest-hit sectors by the COVID-19 Coronavirus economic recession is facing unprecedented turbulence. According to IATA analysts, global air-ticket sales were predicted to suffer losses of US$113 billion (19%) this year. But updated analysis from the IATA now says that the situation has moved beyond their 'Extensive Spread' scenario implying $113 billion loss of passenger revenues and will now incur far more damage worldwide in 2020.
According to the IATA, Even before COVID-19 much of the airline industry was fragile. Only around 30 airlines drove the improvement. Outside the top-30 balance sheets, debt levels are high. So many airlines will have fixed obligations of debt to service and repay. There are also short-term liabilities to service and repay. Now airlines are fast running out of cash. The typical airline had only 2 months of cash at the start of this year.
The COVID-19 Coronavirus economic recession will ground millions of airline passengers and weaken flight demand drastically. Observations from similar times such as the 2008 economic recession showcases that global air-ticket sales and airline flight demand will suffer due to the loss of business traffic and lower levels of consumer spending on leisure travel.
Business passenger flight demand
With economic activity currently limited, many businesses and industries across the board will incur damages that will outlast the Coronavirus outbreak. Due to this, global air-ticket sales can expect reduced airline flight demand from business passengers. This is especially worrying for airlines dependent on business passengers for their profit.
Businesses will be forced to reduce capacity, reduce the frequency and make very significant economic adjustments to curb non-essential expenses. This means companies will keep their travelling expenses under close review.
Businesses will opt for more economically-friendly options such as opting for video conferences instead of air-travel and if the need arises for travel, economy class tickets will be the go-to option.
Airlines have historically enjoyed a market with few substitutes, but as travellers and technologies evolve, the magnitude of the substitution threat to global air-ticket sales is now high. Video conferencing will be the biggest threat for business air-ticket sales as it provides an economically-friendly and time-friendly option for business needs.
This will cause a rippling effect which will make air-ticket sales recovery harder and longer as corporates may get used to and make it a habit to opt for video conferencing or book economy class tickets for employees even beyond the recession time period.
According to Chris Tarry – chairman of the CTAIRA consultancy, "Business travel does not always come back in the same shape if corporates realize that their staff can travel in other parts of the plane as well."
And any customers who opt to fly in business class will be doing so on massively discounted tickets.
Offering tailored and personalized discounts for business passengers can help re-motivate business customers and raise airline flight demand while minimizing the impact on revenue.
Leisure passenger flight demand
In recent years, economic development has led to an increase in income, stimulating leisure and personal travel airline flight demand. But the Coronavirus pandemic has now essentially hit the rewind button on all of that progress.
Travel and tourism global air-ticket sales mostly involve discretionary expense. A weak job market and high unemployment rates caused by the economic recession means limited to non-existent disposable income.
During this time, leisure travel takes a back seat and people will conserve their earnings for the essentials of life; food, shelter and family necessities leading to a drastic decline in global leisure and tourism travel.
However, this does not mean tourism and leisure travel airline flight demand will completely hit the brakes. Observations from the past economic crisis showcase that people will continue to travel but they will travel differently. Buyer behaviour will change and it will change differently in different segments depending on a varying number of factors.
But in general, growth in domestic travel or short-haul international travel can be expected as people will feel more comfortable staying closer to home. Demand for the luxury end of the market will likely fall while demand for either low-cost or perceived good value products and services will likely grow and destinations with "favourable" exchange rates may benefit. Identifying how each customer or customer segment perceive these factors will be key in capturing them.
Fighting the recession
To sustain business through the COVID-19 Coronavirus economic recession, airlines will have to adapt to cater to the changed buyer behaviours. Recovering global air-ticket sales will depend on airlines identifying the changed customer behaviour and adopting marketing strategies to better exploit the new market scenarios.
All hope is not lost, there are always winners and losers in any outbreak of economic volatility. There are a number of ways airlines can combat this unprecedented situation; we discuss the 3 key ways airlines can increase sales and revenue during recovery and how Big Data Analytics is a crucial factor that can help in Covid-19 airline recovery. An agile strategy is a must to survive this recession.
Are you looking for ways to get the best out of your data?
Let us help you use your data.
FAQ Summary
How will the Coronavirus economic recession impact global air-ticket sales and flight demand?
Global air-ticket sales and airline flight demand will suffer due to the loss of business traffic and lower levels of consumer spending on leisure travel.
– Low business traveller flight demand
– Low leisure traveller flight demand
What is the root cause driving this impact?
The economic recession will change how people and businesses spend their money and what they purchase. This changed buyer behaviour will be the root cause of low flight demand.
Why will business traveler flight demand be low?
Companies and industries across the border will be impacted by the COVID-19 Coronavirus economic recession forcing companies to change their behaviour and keep their travelling expenses under close review. Companies will switch to more affordable substitutes such as video conferencing or booking economy class tickets instead of travelling in business class.
Why will leisure traveler flight demand be low?
Travel and tourism global air-ticket sales mostly involve discretionary expense. High unemployment rate and a weak economy will lead to low disposable income causing a change in people's spending habits. Individuals will be more frugal with spending and limit expenses to life necessities leading a downfall in leisure and tourism travel. Leisure travel will not halt completely but how, why and where people travel will change.
References
Related Posts