After learning about the United Nation's Sustainable Development Goals (SDGs) for its 2030 Agenda for Sustainable Development while writing the Big Data-driven sustainability overview, we decided to dive deeper into ways Big Data can help fulfill each SDG. Since there are seventeen SDGs, we'll be going through the first eight SDGs in this part.
SDG 1: No Poverty
The World Poverty Clock's interactive map helps us see the real-time estimates of people living in extreme poverty and monitors whether each country is on-track or off-track towards meeting SDG 1 target, which is to end poverty. According to its About section on its website, the dataset comes from a standardised global poverty database with real-time projections of every individual's income levels worldwide.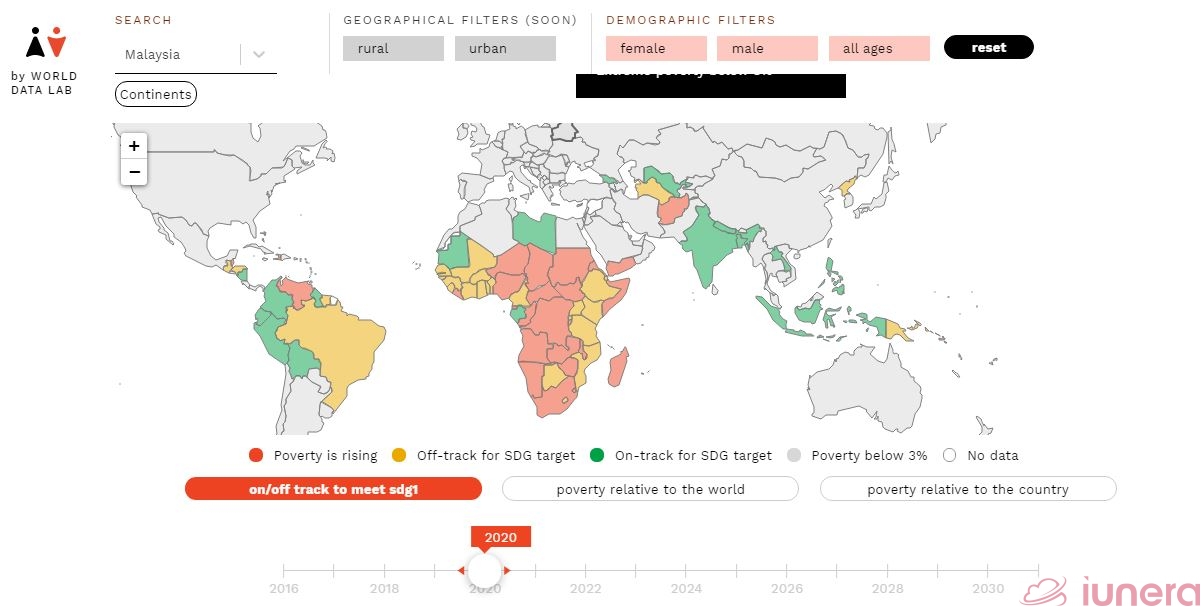 Besides that, UC Berkeley professor Joshua Blumenstock said that financial inclusion could potentially benefit from algorithm-based decision making. He pointed out that globally 1.7 billion people don't have a bank account but about two-thirds of them have mobile phones.
Mobile money transfer companies like M-Pesa are engaged in wide-scale mobile phone-based money transfering, financing, and micro-financing services. So this led to a surge in "digital credit" banking led by the private sector in low-income countries, which is increasing financial inclusion for people without formal credit.
China takes this up a notch with a cloud computing platform to monitor the financial health of 6 million people living in poverty in 9,000 villages in Guizhou province. In the Tongzi County, the government provided aid for the most disadvantaged groups and created a data platform to monitor the distribution of these subsidies to prevent embezzlement and fraud.
SDG 2: Zero Hunger
An example of achieving this SDG with Big Data is MEANS database, which uses a system of emails, texts and cloud-based data crunching to match the right food to the right needy people. The problem that MEANS is attempting to solve is the mismatch of food between what food kitchens and charities need, and what is being given to them.
For example, 10,000 packets of sugar-laden Pop-Tarts are given to a charity with mostly diabetic members. In cases where large amounts of the wrong food are given to the wrong people, the food end up being disposed and that sucks. MEANS prevents this.
There's also the part where farmers can use data about agricultural conditions, weather and food economics to make better farming decisions and to make sure there's enough to feed the world. There are a few initiatives that provide big data systems for this purpose, such as The Climate Corporation, CGIAR and the Famine Early Warning System.
SDG 3: Good Health and Well-being
We've seen in one of our previous articles that Big Data Science can be useful to the healthcare industry in several ways. It's changed the way genomes are used; the way a patient's health condition is monitored, recorded and shared; and the way congestion is managed in the Emergency Department.
SDG 4: Quality Education
Large amounts of educational data in the higher education system are gathered daily from various sources and in various formats like the students' interaction with learning management systems, learning activities, courses information, examination results, course work assessments, administration and teaching processes.
Big Data Science is capable of driving decisions regarding administration, organisation resource allocation, early identification of students at risk of low performance, teaching performance and curriculum design based on the students' educational needs and feedback about the institution.
As we've seen this year, the Covid-19 pandemic lockdown has forced schools and universities to bring their lessons online. And more people have taken an interest in online courses.
A shift to online education might make a data scientist's job of educational analytics a lot easier as all the data about how an online course is used, the problems users faced, their preferences, pass rates, etc can be extracted online. By learning about the behaviour of online education users, education institutions can figure out what to do next.
SDG 5: Gender Equality
According to a document titled Gender Equality And Big Data: Making Gender Data Visible by UN Women and UN Global Pulse, Big Data has so many uses for achieving gender equality and this is reflected in the way Big Data has been leveraged for several projects that uphold women's rights including but not limited to:
Mapping indicators of women's welfare at high spatial resolution (literacy, stunting, poverty and maternal health indicators)
Discovery of complex anomalous patterns of sexual violence in El Salvador
Using radio and mobile phones to engage with Somali women and youth
Analysing attitudes towards contraception and teenage pregnancy using social media data
Identifying trends in discrimination against women in the workplace on social media
Monitoring in real time the implementation of HIV mother to child prevention programme
Semantic map of sexism
Sentiment analysis of reproductive health content of SMS and social media by Kenyan youth
Another big player in data-driven gender equality projects is Data2X. Among its projects are filling the social and health data gap pertaining to women in remote and unsurveyed areas using geospatial data, and analysing sentiments expressed by women on Twitter.
SDG 6: Clean Water and Sanitation
Big Data Science is currently being used for the following water resource projects:
More efficient water use by manufacturers: Factories collect large amounts of data but need to analyse the data. With the help of Big Data Science, they can find out how much water they use and think of ways to minimise water wastage.
Real-time water quality monitoring and forecasting: The ability to monitor the water quality in real-time reduces the effort, time and resources required. At the same time, the analysis of water quality trends can assist the forecasting of future water quality while taking into account factors like rain and pollution.
Identification of water supply issues: Nobody wants a water cut. Nor do they want contamination in their water system since water is an essential resource without which we can't imagine living.
---
That's the end of Part 1. This list will be continued in Part 2, so stay tuned. 😉