Pyramids.
Egypt is renowned for its unique tourist attractions headlined by these ancient masonry structures built as tombs for its Pharaohs and their partners during the Old and Middle Kingdom periods.
That coupled with the — All Gold Everything — culture that Ancient Egypt subscribed to must have fascinated you enough to want to visit the North African country at some point in your life.
Quite interesting… But what is public transport in Egypt like?
A study published in 2019 titled Accessibility Impact Analysis of New Public Transit Projects in Cairo, Egypt, authored by Adham Kalila, is a good place to start learning more about the country's public transport.
The report notes that Egypt's transport network has been developed by well off people who own cars; hence it is biased to suit their needs.
Given the lack of a proper structure, the paper notes, important decisions of right-of-way are "negotiated" at every intersection in a game of survival for the fittest.

The public transport situation in Egypt is characterized by a greater institutional inability to put in place a functional transport system.
The Problem—Solution
The government's response to population growth and congestion in Egyptian cities was to facilitate the suburbanization of desert land through New Urban Communities (NUCs).

The NUCs distance from Cairo range between 10 to 50 kilometres and are only connected to the capital through a few insufficient highways.
World Population Review estimates Cairo's population at 21 million in 2021. These huge numbers are cited as the major cause of traffic congestion and the dwindling quality of life in the city.
While NUCs were viewed as the solution, they brought more problems and presented a whole new headache for authorities in the country.
The paper further notes that NUCs were never going to be a solution because Cairo is the land of opportunity and leisure in Egypt, and that is exactly where a substantial percentage of people want to be.
Causes of Traffic Congestion in Cairo
What are the causes of traffic congestion in Cairo?
A report published by the World Bank dubbed Traffic Congestion in Cairo: An Overview of the Causes, as Well as Possible Solutions, breaks them down in great detail.

The study observes that traffic congestion and delays move from bad to worse year on year. Commuters have to allocate double the time they otherwise would under normal conditions when planning to go somewhere during peak hours.
Cause and Cure
The World Bank's report lists the major causes of traffic congestion in Cairo as follows.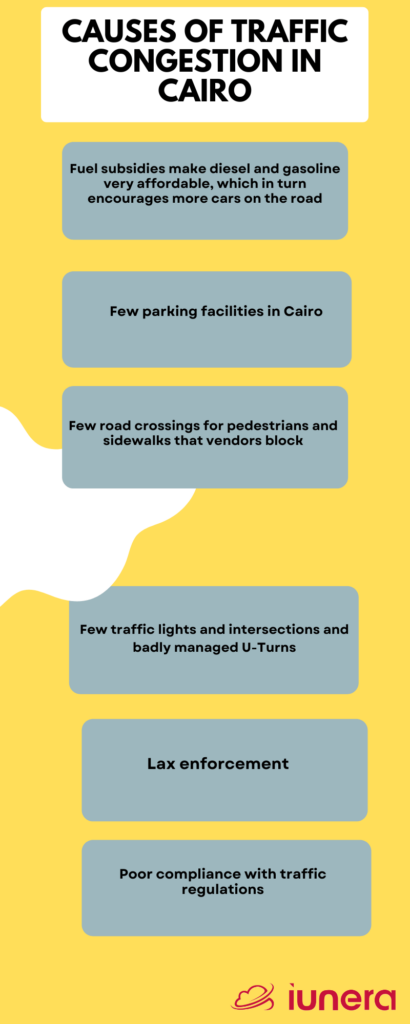 The World Bank report proposes the following measures to ease traffic congestion in the Egyptian capital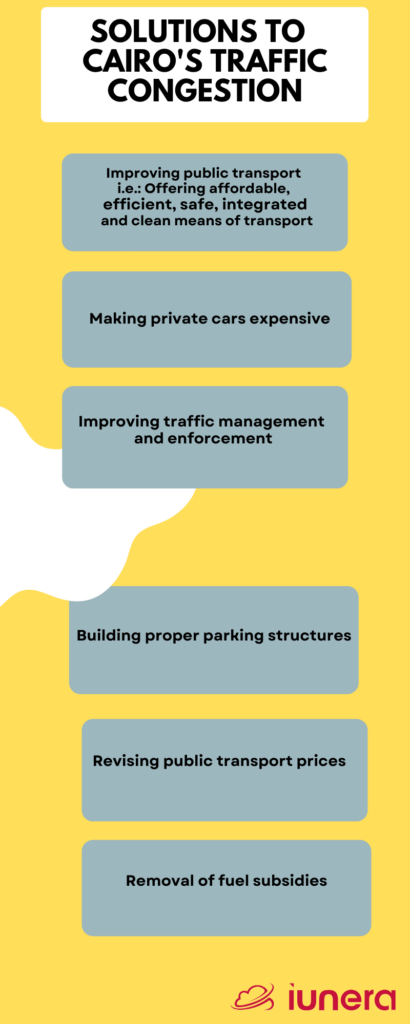 Different cities in the world pay a heavy price for congestion, but Cairo's opportunity cost is steep.
New York bleeds USD10 billion on delays and wasted fuel every year.
Jakarta bleeds USD5 billion on delays and wasted fuel every year.
Cairo bleeds USD8 billion (4% of Egypt's GDP) on delays and wasted fuel every year.
97% Depend on PT
Another study titled Sustainable and green transportation for better quality of life case study greater Cairo – Egypt authored by Mona Mahrous Abdel Wahed Ahmed & Nanis Abd El Monem published February 2020 observes that while the public transport system is skewed to suit the middle-class and the wealthy, 97% of people in the city depend on public transport to move around.
The situation changes with an increase in income.
This is attributable to unsafe, uncomfortable, unreliable and low-quality modes of public transport.
Different Means of Transport
Although the public transport system in Egypt needs a lot of work, it still serves many people who depend on the different modes of transport to move around in search of a living, going to school, or seeking opportunities in the capital.
The most popular modes of transport in Cairo include Buses, Taxis, Trains and The Metro.
Buses
Buses are a popular means of transport in Egypt. The reason for this is that buses are the only mode of transport with fairly extensive services in Cairo, Giza and other Governorates such as Alexandria, Ismailia, Port Said, Sharm El Sheikh, North Sinai and South Sinai.
They are also affordable and are easily accessible.
However, when compared to other options, the bus is not the best mode of transport because;
They make numerous stops.
Heavy congestion
Difficulty in getting a seat during peak hours

Buses are denoted by a specific number and a particular line written in Arabic on the upper section of the driver's side.
Data Corner
Egypt, with help from the European Union (EU), the United Nations Environment Programme (UNEP), the FIA Foundation, Global Environment Facility (GEF) and the Global Fuel Economy Initiative (GFEI), has identified Big Data as the best way to cut down on emissions through fuel economy.
The idea is to put policies that will govern emissions from both old and new cars, including buses. That includes ensuring all cars meet low emission rates and high-efficiency standards, i.e. low consumption per kilometre travelled.
This is captured in a report dubbed Fuel Economy Policies & Labeling for New Cars: Improving Fuel Efficiency and CO2 Emissions in Egypt.
Taxis
Taxis are preferred because of their fastness and professionalism.
This makes them more expensive than the other modes of transport.
Some rogue drivers overcharge riders, so it is prudent for commuters to negotiate the fare before they board.
There are no defined taxi stations in Cairo. Riders hail them in the street.
Uber and Careem are the digital apps with the most extensive services and, as a result, have the largest market share.

Most Egyptians prefer to ride with digital taxi companies because of price transparency.
They are also convenient since passengers can ask a driver to take them to a destination they are not sure of.
The drivers are trained to use GPS to locate a destination.
Data Corner
A report published by the Organisation for Economic Cooperation and Development (OECD) dubbed Consumer Data Rights and Competition- Note by Egypt observes that Uber has gained the upper hand in this market by tapping Big Data to make business decisions.
Trains
Like the Cairo Metro, the Egyptian Railway system is the oldest in Africa.
The Egyptian rail network is more suited for long journeys such as Cairo to Alexandria because short journeys are slower.
The national railway operator, Egyptian National Railways (ENR) offers three classes of travel.

The first and second classes have better services such as air conditioning, a better range of refreshment choices etc.
Timetables for mainline trains are published every half year.
Trains are widely considered to be the safest means of transport in Egypt.
Data Corner
A report dubbed Egypt National Railways: ICT Can Save Egyptian Lives details how technology and data helped restore sanity in the country's railways sector after a long period of fatal accidents and loss-making streaks.
In 2012, a train hit a school bus near Manfalut in Central Egypt, killing 50 children in the process. The accident hit global headlines and catalyzed Egypt's desire to find a sustainable solution.
That was corrected when Alaa Fahmy took office as the Minister for Transport in 2010. He relied on data and technology to fix the problem.
The "clean kilometre" strategy involved doubling the salaries of the train drivers to motivate them to ensure all the equipment in the train was working properly.
The "empty block" strategy was designed after a thorough analysis of the history of train accident data. The strategy stipulated that no train would be allowed to leave before the preceding train reached the next station.
The Metro
The Cairo Metro was the first metro in Africa until Tunis (Tunisia) and Algiers (Algeria) joined the league.
The Cairo Metro was opened in 1990.
It consists of 3 lines and covers 92 stations across the city. The third line is advanced and more comfortable than the first and second ones.

Lines
Line 1: It is 43 kilometres long and has a 4.5-kilometre underground section. It has 35 stations and runs from North to South Cairo.
Line 2: It is 22 kilometres long and has 20 stations spanning from the north to south-west covering Shoubra El Kheima District, Cairo University, and Giza's pyramids.
It was developed in two phases: In 1997 and 2004.
Line 3: Once completed, it will be 47.87 kilometres long with 39 stations. The line will link East Cairo.
Authorities have hinted the fourth line will be opened soon while another two lines have been floated.
Data Corner
A World Bank document proposing how Big Data can be applied to improve public transport in Cairo titled Big Data and Urban Mobility- Cairo June 2, 2014, authored by Jacqueline Dubow, observes the technology can be used to optimize customer experience in mass transit systems like the Cairo Metro.
The Real Solution
For many Egyptians, Cairo is the land of milk and honey — the promised land.
That fact is entrenched by Egypt's position in the AfrAsia Bank Wealth 2021 Report which ranked the North African country as the second wealthiest nation in the continent by total wealth ($282 billion) behind South Africa ($604 billion).
Egypt also has more dollar billionaires than any other country in Africa (6).
Cairo was also ranked as the third wealthiest city in the continent with a total wealth of $118 billion behind Johannesburg $226 billion and Cape Town $123 billion
It is fair to say that opportunities are there for the taking in Cairo. If only there was an efficient public transport system.
The New Urban Communities (NUCS) have not worked as it was hoped hence a new plan is of utmost importance.
As captured by the various reports cited in this piece, Big Data has the potential to improve every facet of Egypt's public transport system.
When you try something that is working so well in other cities you are bound to get the desired results.
Related Posts