Written by Dhaval Daterao
In rural areas, access to public transport is often poor compared to urban areas. Hence, the rural areas need an improved public transit system.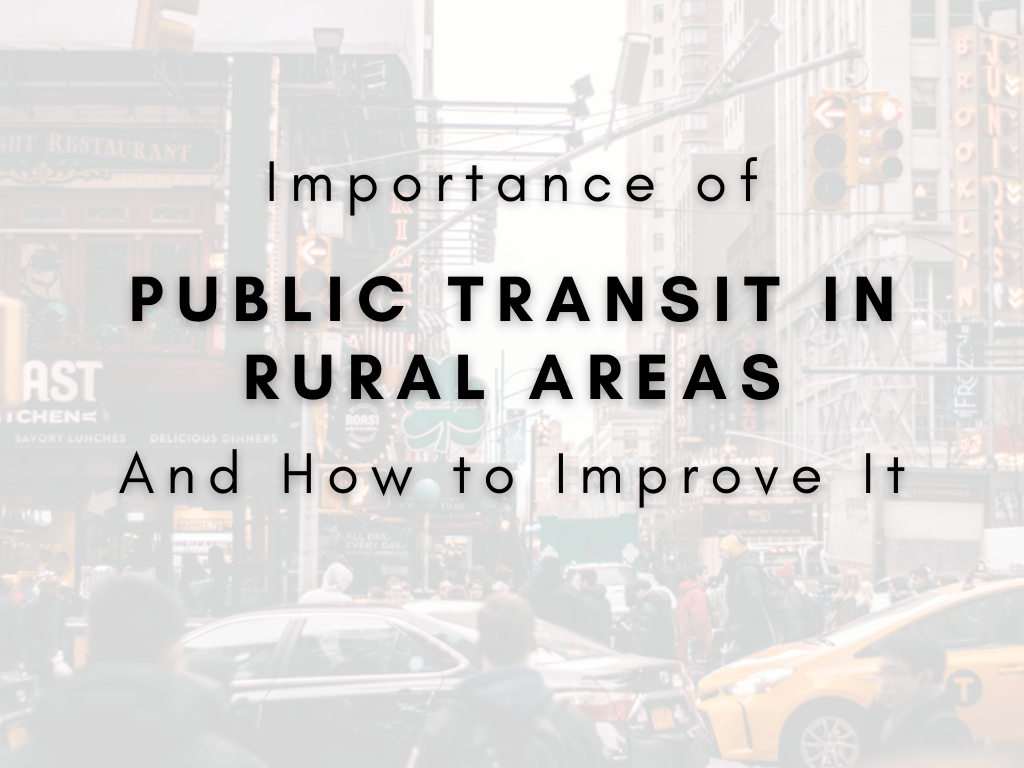 Introduction
Mobility is one of the basic needs of a population and is a primary consideration for the development of a region in which the population resides.
The need for public transport in rural areas has been linked with providing access to essential employment, persons with disabilities, goods, services, etc.
Public transportation in rural areas supports well-being for rural residents by providing transportation to schools, work, worship places, and also to social and recreational places.
And it's not hidden anymore that public transport continues to present challenges to people in rural areas.
With all the difficulties faced by rural areas, governments need to improve their public transportation services in rural areas than ever before.
This article provides an overview of the importance of public transport in rural areas and how it can be improved.
Types of Rural Transit Systems
Common transit systems in rural areas depend on the need of their departments of transportation and communities.
The types of rural transit systems include:
Demand-Response
This transit involves vehicles operating on flexible routes at flexible timings and depends on passenger requests.
Demand-Response transit also allows travelers to use the service for a specific date and time.
These transit vehicles may be dispatched to onboard multiple travelers from different locations before taking them to the destinations.
This transit service is cheaper for the low-density population because vehicles are dispatched only when needed and travel between a single origin and a destination.
Traditional and Deviated Fixed Route
Traditional fixed-route transit use buses, cars, and other vehicles to operate on a fixed route according to a fixed schedule.
These types of transit systems have a fixed timetable of origins and destinations with designated stops.
Passengers are picked up and dropped off at those particular stops and destinations.
The fixed-route bus transit system is the most common in rural areas and almost 1/3rd of the rural bus transit systems are fixed-routes.
As the traditional fixed-route services do not always meet the needs of the people, deviated fixed-route transit systems are introduced.
Deviated fixed-route transit system is also called a Flex-route transit system. It uses a hybrid fixed-route and demand-response transit system.
It also uses a prescheduled timetable but may deviate from the fixed route to a particular location like a children's care center, workplace, etc.
Vanpool
Vanpool transits use vans that can transit 5 to 10 passengers. Vanpools are typically used by rural people to transit long distances to urban workplaces.
Vanpools are usually organized by agencies, employers, or organizations. The passengers may travel full-time or part-time.
Also, the expenses can vary based on travel frequency and is less than driving on a long route alone.
Volunteer Transits
Volunteers transits are the most used type of transportation in rural areas. It relies on volunteers that drive their own private vehicles.
Volunteers also drive vans, buses, or other cars to provide rides to people. And volunteer transit may cost less and provide flexibility.
Transport Habits of Rural Residents
Transport plays a vital role in the lifestyle of rural communities – The factors that affect the quality of life of rural communities.
Accessing the transport increases the ability to access entertainment, recreation, and other activities that highly promote public engagements.
Rural residents mostly rely on self-owned, single-driver vehicles for transportation than their urban counterparts.
However, many residents are not dependent on this mode of transit as personal vehicles can be expensive. Some residents who have limitations for physical or mobility cannot drive.
Public Transport Needs in Rural Areas
Access to public transport contributes toward the economic development and quality of life of rural residents.
Public transit is needed for rural residents to access consumer services, educational services, social services, and healthcare services.
Educational and Employment Services
Commuting to educational and employment places is an essential use of public transport services in rural areas.
For many rural residents, economical stability is dependent on a reliable source of transportation.
Expanding the access for communities to educational places enhances its livability and economical competitiveness.
Usually, rural students face high travel time due to long distances to travel to school.
Healthcare Services
Accessing public transit affects the well-being and health of rural residents. Healthcare services are equally important in rural communities, especially where the distance is comparatively far.
Rural residents rely on public transport, self-owned vehicles, and non-emergency medical transport to meet their healthcare needs.
And if these forms of transits are not available or difficult to access, the rural residents may not be able to get proper healthcare services.
Challenges faced by Public Transport in Rural Areas
Rural residents face challenges in receiving reliable, affordable, and safe methods of transit.
Distance
One of the key challenges for most people living in rural areas is long distance. Average travel for medical services is about 9 hours longer in rural regions.
With the rising gas prices, private vehicle owners are adversely affected making long trips expensive.
And people who do not have a personal vehicle often rely on public transit services, even for destinations that are not always on the public transport routes.
Low Population Density
Lower population density over a large area defines many rural areas.
Regions with low density face challenges with structuring and maintaining transport systems because of the smaller pool of taxpayers.
Safety and Infrastructure
Less population in rural areas thus leads to a lower rate of ridership for fixed transit and smaller tax-paying communities.
The lack of investment in infrastructure and increased use of rural roads have also affected transit safety.
Many residents rely on private vehicles as their main source of transit, so maintenance of rural routes is crucial for travelling.
And one of the biggest concerns about rural roads is their quality. Due to environmental constraints, many rural routes are built from mud or gravel, which are potential safety hazards.
Demand Analysis
The main objective of demand analysis is demand forecast. Demand forecasting for public transport requires analytical skills as the right approach needs to be used for every situation and a good experience of understanding public transport demand and operations.
For all purposes like infrastructure design, operations, etc., the forecast demand can be described using boardings and alighting to each route at each station/stop for hours, days, seasons, etc.
People travelling from a source address to a destination address may take one or more public transit services to reach; a bit of waiting and walking will be required to complete the journey.
Hence, analyzing the existing public transport services and the conditions they are operated in is the initial step in demand analysis.
Demand Analysis using Aggregating and Alighting Data
Taking an Aggregating and Alighting survey can give a greater picture of how many riders are currently on each existing route and exactly how many riders are boarding and alighting at each existing station/stop.
We can do it by simply adding up the boarding and alighting number from each transit route at each station/stop and then calculating the onboard riders.
Mapping Rural Area Transport Connectivity in Geographic Information Systems (GIS)
The popularity of GIS has helped increase the uptake of spatial information in the public policy processes.
Mainly the public transport sector has benefitted the most from the tech advancement in spatial mapping software.
Within the rural transport sector, GIS databases commonly form the basis for rural road asset management systems.
Such systems are already in use in some countries such as India, Nepal, Thailand, Bangladesh, and many more.
GIS maps are also being applied to a wide range of analytical purposes, including measuring rural access as described above.
In India, for example, the Geospatial Rural Road Information System (GRRIS) has a "quarry tool" that estimates the cost of carrying material from quarries to road construction sites.
Some additional potential uses of GIS for monitoring indicators of rural transport connectivity are described below.
Innovative Approaches for Collecting Rural Transport Data
The rapid evolution of information technology and digital sources of data has greatly expanded the scope for collecting rural transport data.
Many governments and research institutes are currently experimenting with these new tools.
The Transport Research Laboratory (TRL) in the U.K. recently investigated the use of "high-tech" solutions for collecting data on remote and rural transport systems (namely roads), such as drones, video cameras, smartphone applications, accelerometers, GIS, crowdsourcing, and other satellite applications.
Remote Sensing and Automatic Mapping
The World Bank and other researchers are now using more and more satellite imagery to gather data for the Rural Access Index.
The software for interpreting remote sensing imagery and using it to assess road attributes (such as the condition of roads) has progressed rapidly.
As they improve, these technologies will help governments monitor changes in their transport system and socioeconomic development.
Global Navigation Satellite Systems, GPS and Probe Data, "Big Data" and Real-time Monitoring
Increasingly, people are recording their own movements. With the spread of mobile smartphones, the number of people carrying around GPS devices, even in rural areas, has increased exponentially.
Within the transport research community, many studies test the accuracy of GPS for collecting traffic and personal trip data.

A growing body of research is experimenting with the use of Big Data. For example, the ieConnect program at the World Bank is developing data systems using new technologies to "harvest" large amounts of data with greater coverage and resolution than traditional survey methods allow.
Artificial Intelligence (AI)
The status of AI applications in the transport sector is continuously changing as more and more research is conducted.
AI holds particular promise in helping to predict the likely deterioration of roads and prioritize investments accordingly, based on historical and real-time data on road conditions and age, rainfall records, temperature, soil type, and traffic density.
It can also help identify cost outliers in the screening stage of the district planning process.
Why is Public Transport so Important in Rural Areas?
Public transport connects and enables people to access various services in a much more affordable way.
It is also the most convenient and affordable way of moving people in large volumes in and out of a rural area.
Capitalizing on public transport is not only good for the environment but also human health as it causes 80% of transport emissions. It significantly reduces air pollution and hence enhances air quality which increases physical activity compared to private vehicles.
Public transport is important in supporting rural community members who are unable to drive or afford a personal vehicle.
Public transport also reduces single occupancy vehicle use on rural roads and supports communities in receiving greater access to essential services in a safe, flexible, and affordable way.
Busting Myths of Rural Public Transport
Here are some of the common criticisms of rural public transport:
Public Transit is Costly
Many times, public transit services are criticized for being costly, especially in rural areas where low ridership results in high costs per passenger-mile and low-cost recovery.
Public transit services can actually be cost-effective compared to their alternatives. For example, a 5-mile rural public transit trip may cost around $7, which is cheaper than:
Total cost to own and maintain a vehicle for infrequent use ($3000 annual cost, divided by 150 annual trips is $20 per trip)
A taxi fare for a 5-mile trip is approximately $10-$15
The accident cost of a higher-risk driver forced to drive due to unavailability or emergency
Rural Areas rely on Informal Transit Services
Informal transit services can be uncomfortable and less reliable. Whereas, formal public transit services offer more reliable, safer and more professional services with fixed schedules as well as amenities like wheelchair lifts and bike racks.
The need for formal public transit is increasing with rural communities finding it difficult to serve the growing demand of only volunteers.
Buses Run Empty
In rural areas, people complain that public transit automobiles occasionally appear empty.
Whereas, these vehicles often operate with extra capacity due to fluctuating demand, similar to private vehicles which generally operate with empty seats.
Most of the time, public transit vehicles operate at nearly or full capacity.
Public Transit is only Justified in Large Cities
Public transit serves a variety of roles in an efficient and equitable transportation system.
Just like in large cities, it provides space-efficient mobility on major travel corridors, which eventually reduces traffic and parking congestions.
Although it serves a limited portion of total travel in most rural areas, those trips tend to be specifically important, which include travelling from schools, work, basic shopping, and healthcare.
Public transit services can help reduce many problems faced in rural areas, including population and economic declines, poverty, and high traffic fatality rates.
How can Public Transport be Improved in Rural Areas?
Rural areas can improve their public transport system by implementing economical and environmentally friendly ways to travel across long routes.
The typical high cost per passenger model needs to evolve and it can be done by utilizing existing fleets that already serve these communities.
Being able to easily track the required data on an existing route service should be the initial step.
This data can be used for data-driven service simulation, which potentially shows the opportunities to improve the coverage and lower the cost of implementation.
By enhancing the ability to encourage more shared journeys in rural areas, we can reduce the environmental impacts of individual cars.
Connecting rural areas with essential services
We can improve public transit in rural areas by providing an efficient and easy way for people to access public transport services.
It can be done by taking the cost-effective and data-driven approach when implementing a Demand-Response transit system that commutes between fixed-route services.
So, when it comes to improving public transport in rural areas, flexibility is the key.
Therefore, public transport is essential in connecting rural communities to essential services.
Related Posts